A BRIEF HISTORY OF

LONE STAR SANTAS

®
By Santa Jim Fletcher
Co-Founder and Director Emeritus
I've been asked by many to provide a bit of history of Lone Star Santas.  It all started when I was asked to be Santa for our local home owners association late in 2006.  I didn't have a beard but was a bit rotund.  The sub-division said they had a suit.  I tried it on … but it was too small.  I went to a costume shop, purchased a good starter suit and boots … but really didn't know much about 'being' Santa.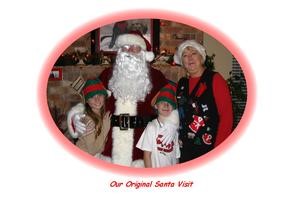 I searched the web and purchased a 'How to be a Santa' book.  We did our first gig for the neighborhood … using the cheap fake beard that came with the sub-division suit.
 I was hooked!  I asked Madge if she minded if I grew a beard and she encouraged me to do it.  The coming June, Madge and I got married at the house.  We had our reception in the barn.  The DJ played 'Here Comes the Bride' as we left the house for the reception.  Halfway to the barn the DJ played 'Here Comes Santa Claus'.   I had a beard by then … so she did marry Santa.
STARTING LONE STAR SANTAS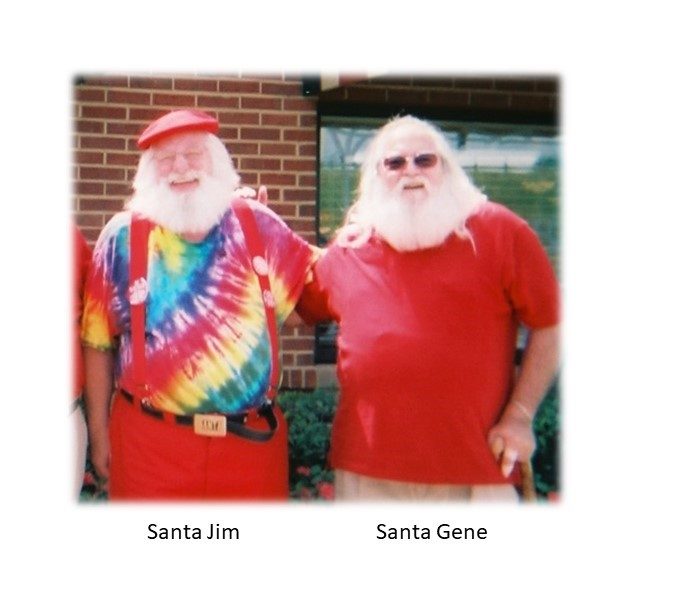 I also searched the web for some sort of Santa organization to join.   I found AORBS.  However, this was during the so-called 'Santa Wars' and things were in a state of turmoil with this national organization.  However, I did find Santa Gene Clayton.  Santa Gene was the Texas liaison for AORBS but was disillusioned by what was going on.  Santa Gene lived in a small community named Carmine, TX off 290.  
In early 2007, Santa Gene and I met for lunch at our home.  We hit it off immediately.  We soon discovered that I was a 'visionary' and Santa Gene had good 'common sense'.   We discussed the 'Santa Wars' and felt that we could form a state-wide fraternal Santa organization in Texas using an Excel spreadsheet of known Texas Santas.
Our only tenant was that we would never become a 'national' Santa organization.
Additionally, we would be all-inclusive including real-bearded and designer-bearded Santas, Mrs. Clauses, Elves, Reindeer Herders and those with the Real Spirit of Christmas in their hearts who lived or worked in Texas.  We would not discriminate based on sex, race, creed, politics or sexual orientation.  We would however require annual background checks.
We contacted Santas from the spreadsheet.  In August 2007 we had our 1st Eatn' Meetn' in Brenham.  It was attended by Santa Mike McIntyre, Santa Dale Bianche, Santa Reid Fletcher, along with Santa Gene and me … the Original Five.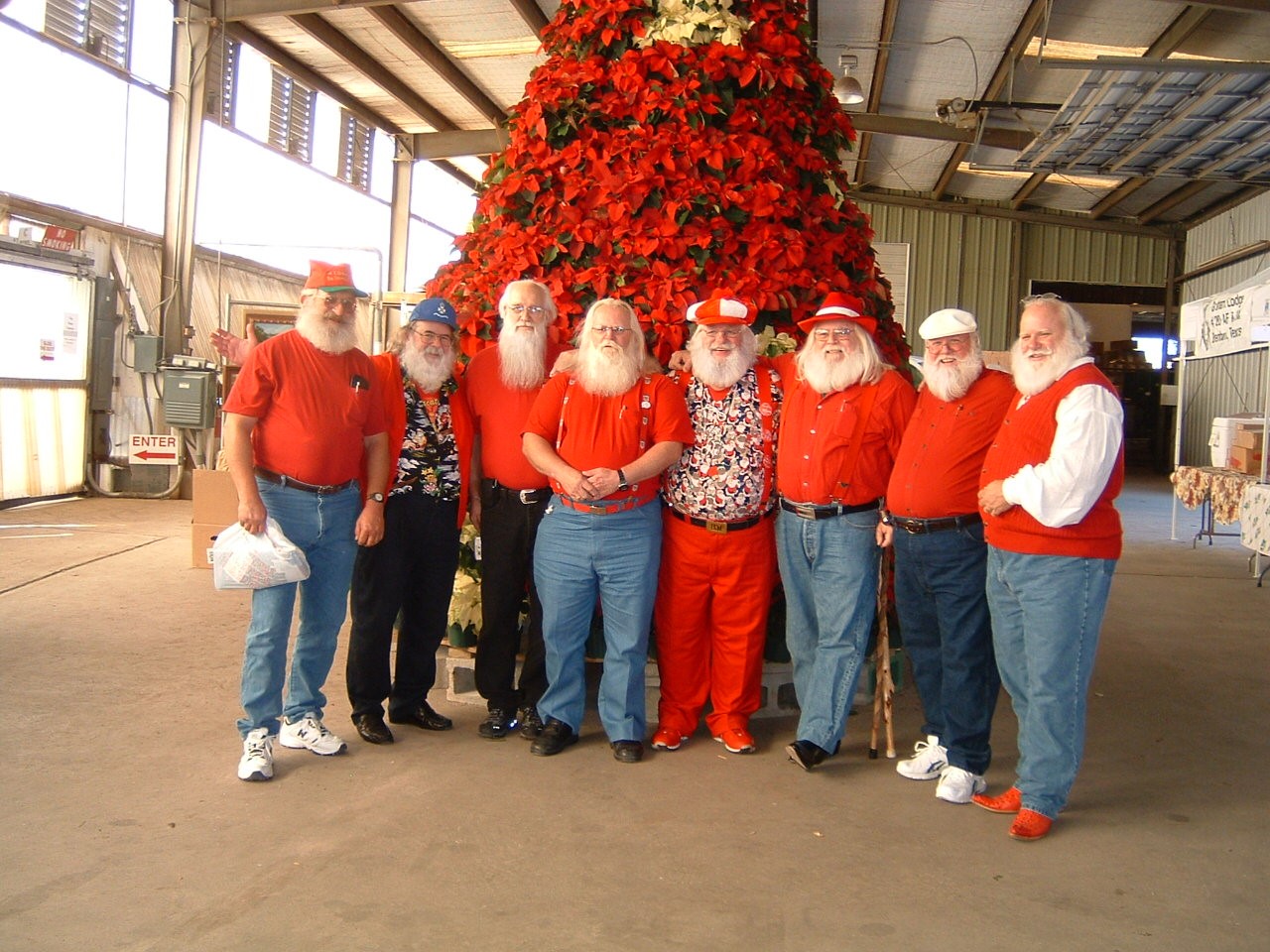 In October 2007, we had our 2nd Eatn' Meetn' where we added Santa Mark Reed, Santa Bill French, and Santa Morris Flett.  The Original Eight!   Subsequently, our meetings and number grew to 15 then 35 then on and on.   We learned early on that as we grew, we needed leadership and dues to do such things as renting venues for Eatn' Meetn's. 
GETTING ORGANIZED
We elected what we called a 'Claus Council' made up of five of us … Santa Dan Harriman, Santa Larry Hawkins, E'Beth Florer, Santa Gene and me.  At another crowded meeting, again in Brenham, we asked for $20 in yearly dues.  Our first dues payer was Santa Gilbert Zavertnik … the longest running Santa in the Nation … according to Guinness World Records. 
A MAJOR TURNING POINT
Then on May 25, 2011, an EF5 Tornado hit Joplin, MO.   I was taking a shower and had another vision (nothing to do with the shower) of Santas going to Joplin with a load of toys to give out.  "What Can We Do".   I contacted a few of our Santas for thoughts and all were positive that this was a good idea!  We asked our members to contact their local churches, neighborhoods, friends and businesses to collect new toys.  Most were dropped off at the barn Madge and I have, and many more were dropped off at a company (Standard Controls) near Dallas.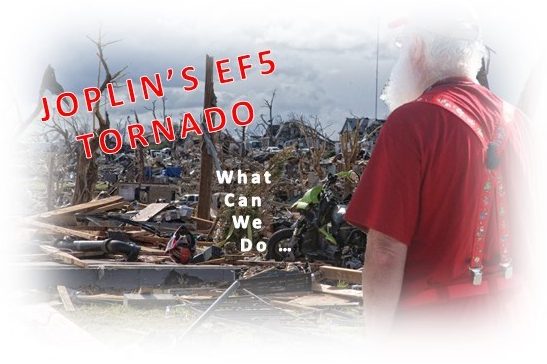 We went to a local sign maker (Fastsigns®) and they donated our first Banners.  We borrowed and rented three trailers and taped our LSS Banners to the sides of the trailers and on June 2, we headed for Joplin.  We had no idea what we were doing.  We had two trailers with toys … then in plastic bags just laying on the floors of the trailers.  And we had another trailer with a grill, propane tanks, and enough food to feed a small army.  
We also had Santa Reid and Florence Fletcher with their motor home.  Along with them were two of their granddaughters … who we dubbed as their Elves.   Off to Oklahoma City for our overnight stop.   However, our 1st stop was to pick up our Dallas area Santas and toys.  Eventually, we sped off to OKC, OK.   There were 12 Santas[1], 3 Mrs. Clauses[2], and 2 Elves[3] traveling in Convoy.  Along the way, the motor home contingent assembled 'made to order' sandwiches.  At every stop for gas or at rest stops to eat the sandwiches, people donated money to our mission.  
By the time we got to Oklahoma City, we had collected nearly $1000!  Santa Gilbert (a Wal-Mart employee), Terri Bloomberg and I stayed in a local Wal-Mart parking lot, went in and purchased $1000 worth of toys at a discount … along with more toys donated by that Wal-Mart.  Meanwhile, the rest of the folks went to El Reno to give them toys as they were also hit be the same tornado.
That afternoon, we headed for Joplin.  We arrived in Joplin at dusk.  We had arranged to use the Immanuel Lutheran Church parking lot.   Due to poor lighting, we passed up the church and went under a viaduct that sort of separated what was referred to as the 'war-zone' from the less damaged areas.  We pulled our convoy into what was once a filling station to turn around.  We got out.  We looked at the total devastation as far as the eye could see.  I think we all cried.
We had planned to stay in our vehicles and try to get some sleep.  However, the church had other ideas.  They invited us in to sleep in one of their great rooms that was divided in to three sections.  One was for the Volunteer Nurses, another for married couples, and one for us Santas.  Some had air mattresses … I was given an old lazy-boy chair.   The church invited us to eat with them.  It was an eventful night … to say the least.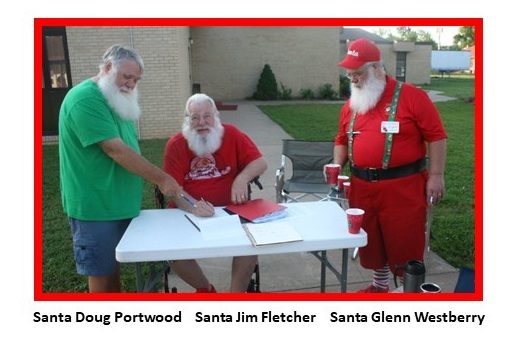 The next day, June 4th … my Birthday, we divided into 4 groups … we called sleighs.   There were few street signs as they were also destroyed.   One of our 'sleighs' came across 4 National Guard gentlemen.  Of course, they were happy to see Santa.  They told us to go to College Heights Christian Church which was one of the primary relief distribution centers for the disaster.  Off this sleigh went only to be stopped at the gate saying they weren't taking toys.  Fortunately, a Texas BBQ group called "The Holy Smokers" had passed our convoy on the way up.  Of course, we open-windowed 'high-fived' each other.  They interceded with the folks running the relief area and we got in and set up.  Like I said, we knew not what we were doing.
All-in-all, we distributed an estimated 3,500 toys that day.
[1] Santa Jim Fletcher, Santa Gene Clayton, Santa Doug Portwood, Santa Glenn Westberry, Santa Gilbert Zavertnik, Santa Bill French, Santa Mark Reed, Santa Reid Fletcher, Santa Mike Grimes, Santa Gene Gunn, Santa Claude McPherson, Santa John Bloomberg.
[2] Mrs. Claus Florence Fletcher, Mrs. Claus Mary Gunn, Mrs. Claus Terri Bloomberg.
[3] Kayla & Hailey Born
DEFINING OUR MISSION
On the way home, we knew this was to be the Mission of Lone Star Santas to provide Love, Hope, Joy, Toys and Hugs directly to Children and Families Affected by Natural Disasters.
A few days later, we gathered in a meeting to discuss what we did right and what we could improve on.  Santa Doug Portwood facilitated these meetings.  We eventually wrote a "How-To" booklet which we make available to any Santa organization. 
We learned quickly that we needed to become a 501(c)(3) non-profit charity.  This also meant that we needed to have a Board of Directors and Officers, an official charter, and many other things to cover legal requirements.   So, we did just that.
KEEPING TRACK OF THINGS
In 2016, we determined that we really needed to improve our database.  Originally, we were using MS Excel spreadsheets.  Then, we updated to a MS Access database that worked better but was very lacking.  We had retained the services of Executive Service Corps of Houston (ESCH), a consulting service for non-profit organization such as ours.  ESCH has formed a partnership with the University of Houston (UH) Bauer College of Business.  They put together teams of Senior business major students to work with non-profits … treating us as clients.  We applied and UH assigned a team (UH#1) to LSS with the objective of reviewing established database programs on the market.  This first team reviewed five database programs and recommended MemberPlanet (MP) as the best one to fulfill our needs.  We met several times as UH#1 imported our information into MP.  UH#1 also worked with MP to help customized MP as needed.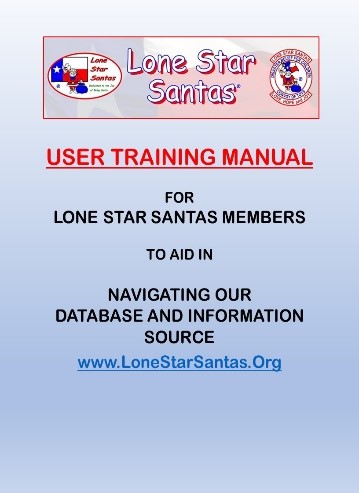 After UH#1 graduated, UH assigned another team (UH#2) to enhance the database to aid in Badge and Vest ordering, RSVP capabilities, event scheduling, dues collection, creating a User Training Manual and more.  Santa Gene Goetz and Santa Jim Fletcher made a few edits, Santa Clem Webb had them printed and initial distribution began March 2019.[4]
[4] User Training Manual is available to Members of Lone Star Santas.  It acknowledges each of the folks who helped with our database design and implementation.
THINGS REALLY CAME TOGETHER
We purchased a used trailer.  A good friend of LSS, Russell "Cheeto" Musquiz who owns BullPrinting Graphics, designed and wrapped this trailer after we purchased and installed a 'wind-nose' on the front of the trailer.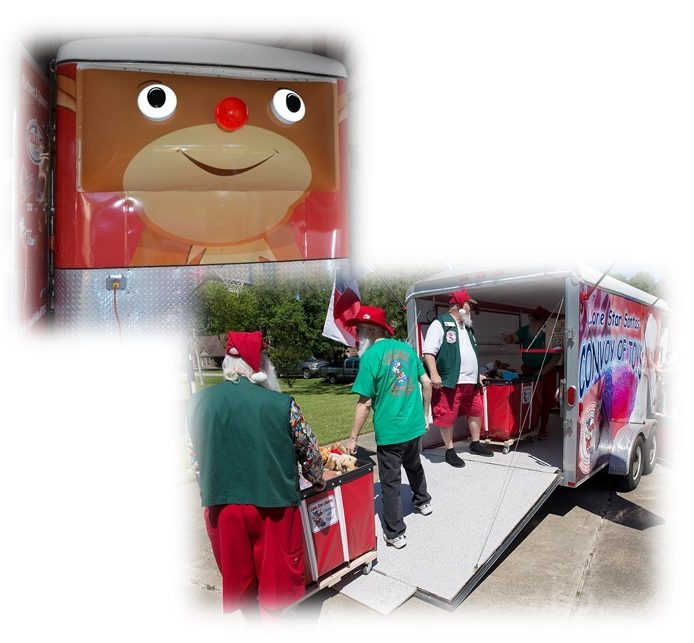 This trailer became known as "Rudolph".  Santa David Wyman did a yeoman's job of converting this trailer to satisfy the needs of our 'Convoy of Toys'® efforts.  Several other helped.  Since then, we obtained a 2nd brand-new trailer from Sonny Wooly, a friend of Santa Ted Duffield's of Belton, TX.   Again, "Cheeto" wrapped this trailer with Elf Windows on the nose.  Of course, we call this trailer "Elves".  Learning that storing, loading and unloading bags of toys was a hassle for Santas who are not necessarily in good physical shape; we've purchased 18 Red Vinyl Basket Trucks that we can ROLL around rather than needing to CARRY toys.  These have become invaluable!
MERRY CHRISTMAS BILL
Lone Star Santas traveled to Austin during the voting and ultimately as a Texas bill called the Merry Christmas bill was signed into law by Gov. Rick Perry on June 14, 2013.[5]  We are proud of this being signed into law.  It helps protect school teachers and administrators when planning for … in our case … a Santa Visit to their school.
[5] The law states that:WINTER CELEBRATIONS.
(a)  A school district may educate students about the history of traditional winter celebrations, and allow students and district staff to offer traditional greetings regarding the celebrations, including: 
(1)  "Merry Christmas";
(2)  "Happy Hanukkah";
 (3)  "happy holidays."
(b)  Except as provided by Subsection
(c), a school district may display on school property scenes or symbols associated with traditional winter celebrations, including a menorah or a Christmas image such as a nativity scene or Christmas tree, if the display includes a scene or symbol of:
(1)  more than one religion; or  
(2)  one religion and at least one secular scene or symbol.
(c)  A display relating to a traditional winter celebration may not include a message that encourages adherence to a particular religious belief.
EVENTS AROUND THE STATE OF TEXAS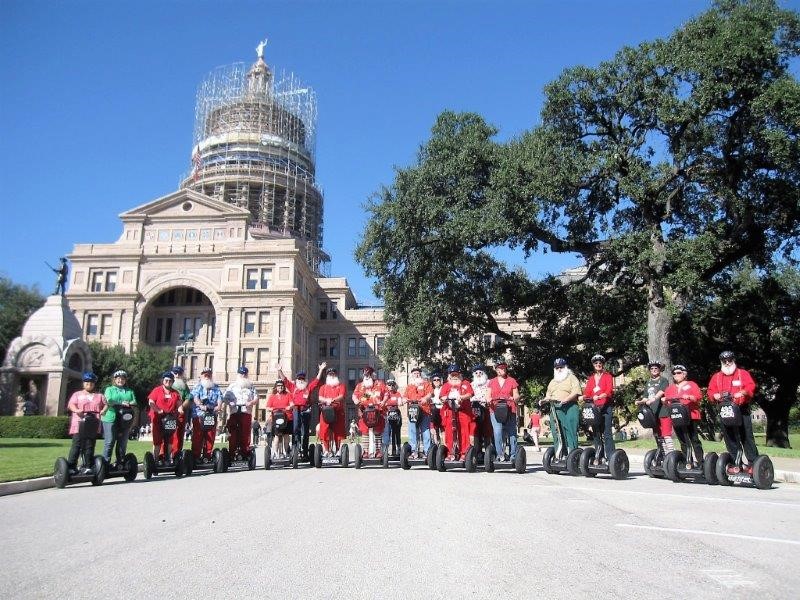 We have had several over-night events over the years that provided fun for our members.  We traveled to Austin twice for Segway tours of the Capital.  This was quite a sight to be sure! 
We've been to Fredericksburg during Oktoberfest.  We've taken the train ride from Crocket to Palestine.  And, we attended an Astros game posing for Santa photos and collecting for our Mission.   Speaking of baseball games … we have also attended several Skeeters ball games in Sugar Land (South Houston area).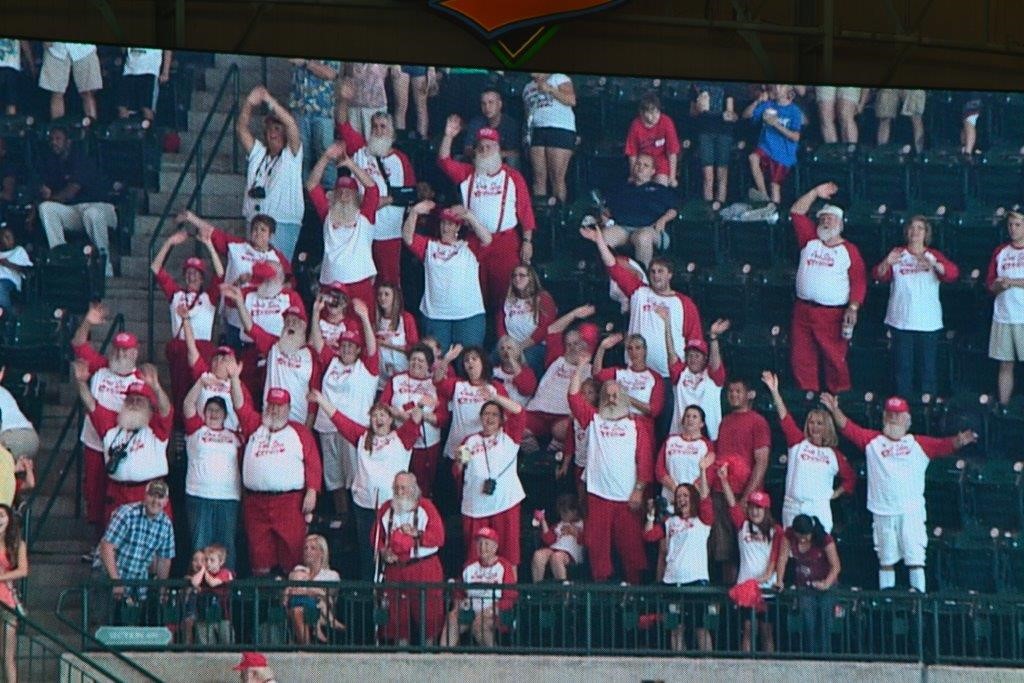 We've attended the Celebrate Santa conventions in Gatlinburg and were part of the first signers if the Santa Oath in 2009.  Subsequently, we attended the CS conventions in 2011 and 2013.   In 2016, we also attended the Discover Santa Convention in Branson.  There were 100 of our members … out of the 800 folks attending … making LSS the largest contingent present.   Everybody remarked how well organized we are.  Lots of fun!
SUPPORTING OUR MISSION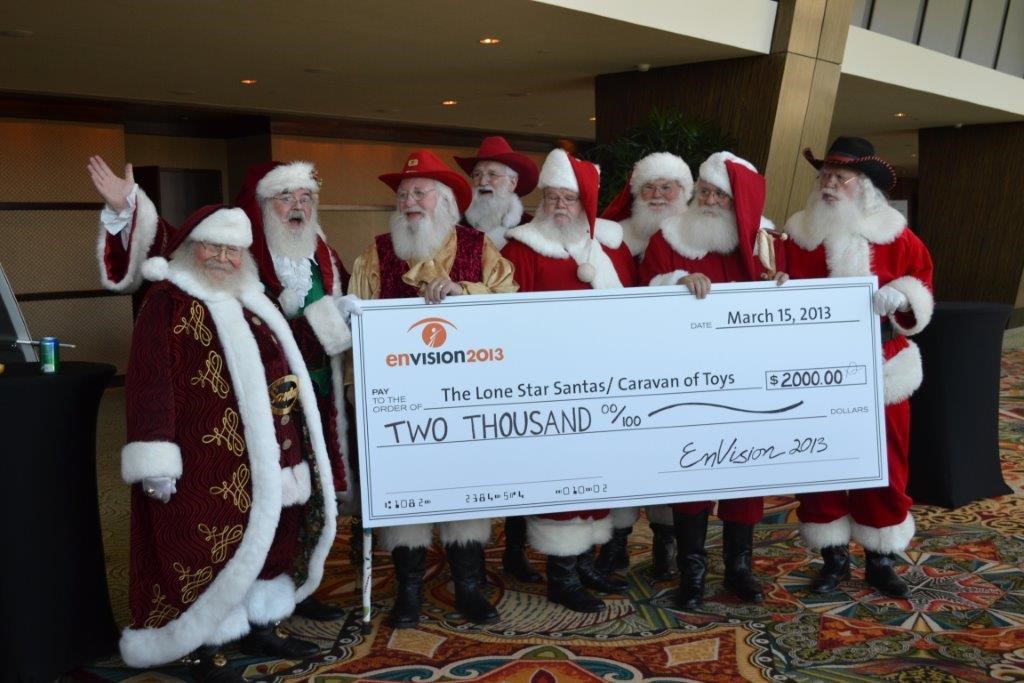 In 2013, we were asked to provide "a dozen Santas" for an event that a company named Experient, an event organizer, was holding downtown at the Houston Hilton.  On a Thursday evening, Santa Bill French and his wife Carol (going as an Elf) encouraged employees to participate in a dunk tank event purchasing balls for cash. All monies collected were for LSS. The next morning, LSS provided 9 Santas and 5 Mrs. Clauses to help surprise their employees at their concluding meeting. Santa Doug Portwood and Santa Jim Fletcher gave a short presentation including the PSA video we presented at the Astro's ball game.  As a result, Experient provided Lone Star Santas with a $4,000 check (they doubled what is in the photo).  This was our first large donation!  The next morning, most of us headed for San Antonio for a Santa Roundup.
Subsequently, we have had large donations from Tony Gullo, who owns several car dealerships in Conroe.  And, from Santa's Wonderland owners Scott and Phil Medlin in College Station.
In 2015, we created a "Spirit of Christmas Legacy Award"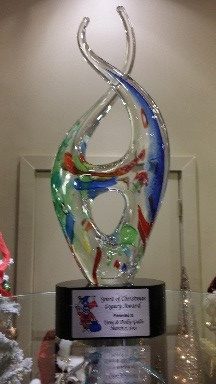 that we present to folks who demonstrate the Christmas spirit year-round.  As of 2019, we have presented 7 of these awards.  We try to present at least one award each year.
We have had 18 'Convoy of Toys'® as of 2019.  We had Visits to Hurricane Harvey Shelters in Houston, Dallas, Nacogdoches, and Port Arthur / Beaumont.  Santa John Greenman, who normally visits San Juan Puerto Rico distributed Lone Star Santas toys to four different venues during Hurricane Maria in 2017.
SPREADING THE JOY
Fraternally, in addition to our 'Convoy of Toys'® Missions, we have had well over 50 area Eatn' Meetn's, 15-Santa Roundups, attended at least 7-National Santa Conventions, well over 10-Santa Schools, and have had 4-Santa Cruises.
It should also be noted:  Every member must have an Annual Background Check.  We highly recommend every Christmas portrayer carry Entertainer Insurance.  We offer both.  We also recommend our members obtain Hospice Training.  Most importantly, Lone Star Santas Charities, Inc. members are all volunteers.  No one is compensated.  All expenses are borne by each member attending any of our functions.
KEEPING THE JOY
Lone Star Santas thrives due to the unrelentless work of many of our members.  We have a great deal of talent and skills throughout our organization.  We continue to look toward our younger members to take on more and more responsibilities and leadership roles.
We all thrive by spreading Love, Hope and Joy to all.  We are Dedicated to the Joy of being Santa and live by the Santa Oath.
© 2022 – Lone Star Santas Charities, Inc., P.O. Box 1821, Cypress, TX 77410