On May 25, 2011, an EF5 Tornado hit Joplin, MO. Lone Star Santas, which had been enjoyed being a fraternal group until that time, sprang into action contacting  local churches, neighborhoods, friends and businesses to collect new toys. Twelve Santas, three Mrs. Clauses, and two Elves then headed for Joplin in a convoy of cars, trucks, borrowed and rented trailers and a motor home. As they traveled, the group collected nearly $1000 in donations. An estimated 3,500 toys were distributed during that first Convoy. Because of this first 'Convoy of Toys', the Mission of Lone Star Santas was developed to provide Love, Hope, Joy…and Toys, all wrapped in a big Santa hug directly to those impacted by natural disasters. After our first call to action, there have been over 20 COTs and relief efforts, as listed below. In 2020, Lone Star Santas made donations totaling $35,000 to eight major food banks across the State of Texas to help feed many thousands of families affected by the COVID-19 crisis. And in February of 2022 supported Colorado Wildfire Relief Efforts with contributions to the Rocky Mountain Santas and Christmas Performers first Convoy of Toys relief effort.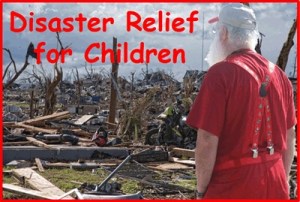 Convoy of Toys (past event list)
Joplin Mo. 6/2011 – First Mission, had not formally started COT 501(c)(3) for this mission. It was from this mission that the idea of Convoy of Toys was formulated and becoming a non-profit charity was born. Original '12', twelve Santas, three Mrs. Claus and a few elves. Arrived in Joplin ten days after EF- 5 tornado and the number of children 250.

El Reno, OK 6/6011 (on the way to Joplin) – Very brief stop in El Reno and a Community Center in DT El Reno, Saw 10 – 20 children.  Same storm that spun off Joplin tornado sparked a minor tornado in El Reno.

Magnolia / Bastrop TX 8/2011 – Wild fires prompted this COT, hundreds of families displaced for several days. First time to set up in a school. Only 20 – 30 children, 10 – 15 Santas; but made everyone happy.

Forney TX 5/2012 – Early May tornado east of Dallas damaged several homes and businesses in this small community. Small event 20 – 30 children. One or two Santas

Lancaster TX 5/2012 – Tornado early May – responded with about 6 Santas – worked with a church parish. Used a 'business club' from local HS for elves. Small event 40-50 children.

West TX 5/2013

Granbury TX 6/2013 Double Header w/ Cleburne

Cleburne TX 6/2013 Double Header w/ Granbury

Moore OK 6/2013 

Van TX 5/2015

San Marcos TX 8/2015 Double Header w/ Wimberley (same day)

Wimberley TX 8/2015 Double Header w/ San Marcos (same day)

Garland / Rowlett TX 1/2016

Deweyville TX 9/2016

Emory / Fruitvale TX Double Header 6/2017

Eustace TX 6/2017

Martin's Mill, TX 6/2017

Hurricane Harvey Shelter visits

Houston 'NRG' Stadium 9/2/17

Dallas Mega Shelter 9/4/17

Nacogdoches 9/7/17
Here is a list of the COT event held in Puerto Rico and after 2018.
11/20/17 Coamo neighborhood. Went house to house visiting and giving plushies to children. Also water, hot food, and care kits were passed out in a cooperative effort.
12/14/17 Boys and Girls Club, San Juan. A local club had been displaced by hurricane Maria and is meeting in an area provided by The Mall of San Juan.
12/22/17 Auxilio Mutuo Hospital, San Juan. Each child, on the pediatric ward, not able to be home for Christmas, received a visit from Santa in a COT Event in conjunction with Scotia Bank.
12/23/17 comunidad Palo Seco at Santa Isabel. COT joined the Nursing Students of the University of Puerto Rico to provide Christmas to approximately 150 children who would not have received anything for Christmas.
Mrs Donna Claus was able to volunteer with Red Cross and was able to provide plushies to needy children as she provided her nursing skills in the unreached areas of the interior.
Any remaining plushes were left with the spiritual care team of the Red Cross in Puerto Rico.
This photo was taken 11/23/17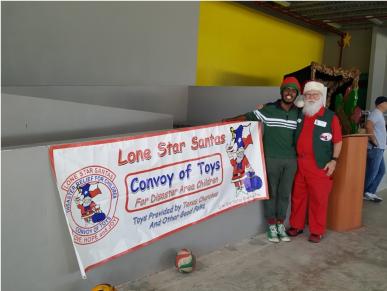 Port Arthur Tx 4/2019
Alto Tx 10/2019
Covid Relief 2020 Feed Texas Virtual Convoy 2020
Support for Rocky Mountain Convoy of Toys 02/2022
All Lone Star Santas members are welcome to participate in our Convoy of Toys. All that is required is a current background check and a desire to help spread Love, Hope and Joy.