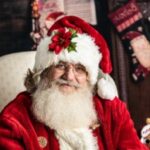 Santa Santa Roger
Sleigh Phone Number 8064434090
Sleigh Email Address Rgldthorn@gmail.com
Bio/Background Santa Roger is available for the Amarillo and Texas Panhandle region.  He does Home visits, Corporate events, Photo shoots, HOA events, Parades and Tree Lightings. He is available year round and has many Santa Claus looks including Cowboy Santa, Summer Santa(pools and beach),Golf Santa along with multiple traditional Santa Claus attire.  Also available for Breakfast or Dinner with Santa along with one of his favorites, Cookies with Santa.

He will also read stories, lead sing alongs and does a little Christmas magic.

Santa Roger also has a Mrs. Claus and Elf that can improve the Claus experience.

Santa Roger is a member of the Worldwide Santa Claus Network and has completed their Santa school and does Santa continuing education programs. He has also graduated from The School of Santa's. Also has specialized training on Autism awareness.

Santa Roger looks forward to making your event the most extraordinary experience possible.
City Boys Ranch
Region panhandle
---