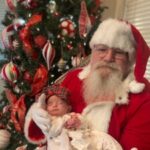 Santa Santa Michael Wise County
Sleigh Phone Number 9403891907
Sleigh Email Address mcrtex@hotmail.com
Bio/Background I have been Santa for four years starting out at my church. I found I  enjoyed it and have done home visits, breakfast with Santa,  Pets, Corporate parties,  visits to schools, childcare and City parades, but my most special event is kids with disabilities.   I work mainly in Wise County but will travel further.

I normally do one event a day so I can give you the best visit.

I am a traditional  Santa but have a western  themed suit if needed.
City Decatur
Region north-texas
---