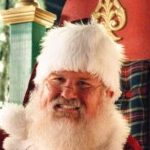 Santa Coach Gregg Blanchard
Sleigh Phone Number 281-541-7376
Sleigh Email Address santacoachgregg@gmail.com
Website https://sites.google.com/view/santacoachgregg/home
Bio/Background I have just been called to join the Santa Claus Family and have been educating myself to be the best possible Santa I could be, bring joy and laughter and the Christmas Cheer to those who crave it.  I have been in education over 25 years and have experience with all types of children.

I am a member of the Lone Star Santa's and IBRBS.

I am available for:

– Private parties and functions

– Corporate functions

– Neighborhood/HOA/Community Events

– School Events

– Picture Shoots and Home Visits

– Non Profit Events and Functions

Born and Raised in Houston, currently living in the Klein area in North Harris County.
City Klein
Region houston-southeast-texas
---