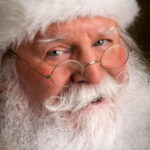 Santa North Texas Santa®
Sleigh Phone Number 8178212861
Sleigh Email Address Santa@NorthTexasSanta.com
Bio/Background A professional Santa with over a decade of experience with a naturally-white real beard, (actually a well-known retired D/FW advertising executive and experienced professional photographer).
North Texas Santa® will participate in any way you wish at your event.
Visits with children of all ages, photos, story time, Christmas trivia game, selfies and more.
Since he is also a "retired" photographer, he knows both sides of a camera, and can help get great poses.
He arrives in a variety of traditional Santa Suits, custom-made for him and uses professional photo make up.
• Fully insured and background checked. He is also a volunteer in the HEB Independent School District, Holds Ministry Safe certificate to work in churches. Morgan's Wonderland Inclusivity Certified to work with Disabled Persons.
• Experienced appearing in Advertising, Commercials and Film
• Offers competitive hourly rates and is offers special rates for educational and charitable institutions and hospitals.

Available for Corporate Events • Private Parties • Retail Promotions • Breakfast with Santa • Working with Professional Photographers • Family Portraits • Pet Portraits • Restaurants Family Parties • School Events • Church Events • Daycare Centers • Nursing Homes

North Texas Contact:
Workshop & Sleigh: 817-821-2861
Email: NorthTexasSanta@gmail.com
Web: http://www.NorthTexasSanta.com
Facebook: North Texas Santa•
Texas workshop via the North Pole: 2317 Bridgeton Lane, Bedford Texas, 76021

North Texas Santa® is a registered trademark of Santa George Campbell. All Rights Reserved.
City Bedford
Region north-texas
---