---
Santa George Campbell, North Texas Santa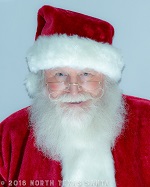 Bio / Background Info:
A professionally-trained Santa with a naturally white real beard, a graduate of Santa Claus University (actually a well-known retired D/FW advertising executive and professional photographer/teacher).

Participates in any way you wish at your event. Visits with children of all ages, photos, story time, Christmas trivia game,  selfies and more.  Since he is also a "retired" photographer, he knows both sides of a camera, and can help get great poses.

Arrives in a traditional Santa Suit, custom-made for him in Hollywood, by the same company that serves the major movie studios. and uses professional photo make up.

Fully insured and background checked. He is also a volunteer in the HEB Independent School District.  Offers competitive hourly rates and is negotiable and/or free for educational and charitable institutions and hospitals.

can be found on Facebook at North Texas Santa if you would like to check that out.

has a local workshop via the North Pole at 2317 Bridgeton Lane, Bedford Texas, 76021

Available for Corporate Events • Private Parties • Retail Promotions • Breakfast with Santa • Working with Professional Photographers • Family Portraits • Pet Portraits • Restaurants




Family Parties • School Events • Church Events • Daycare Centers • Nursing Homes • Commercials • Advertising
Available Locale(s):
Contact:
Workshoppe & Sleigh: 817-821-2861

Email:  NorthTexasSanta@gmail.com
---
Santa Jim Jeffrey
Bio / Background Info: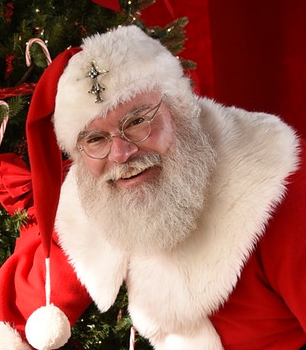 Volunteer for Cook Children's Medical Center in Fort Worth (year round in "civilian clothes" and as Santa at Christmas and whenever needed),  background screened and trained.

Volunteer for St. Vincent DePaul Catholic Church (Santa 

at Christmas and Halloween Pirate), background screened 

and trained by Fort Worth Catholic Diocese.

Volunteer for Santa America to serve children and 

families facing serious illness.

Member of Santa America, Mystic Order of Traditional 

Santas and follower of the Santa Claus Oath.
I do not accept income for Santa appearances, but may 

require donations to a mutually agreed charity.
Arlington – Mid-Cities – Fort Worth area.
Contact:
Workshop: 817-261-3200
Email: santa.jim@sbcglobal.net
Website: www.santa-jim.com
---
Santa Mike Laws
Bio / Background Info:
Current background check and insured

Several outfits; casual and formal

Real bearded Santa

Can read stories, present gifts and photo opportunities

Master's Degree from International University of Santa Claus

Graduate of the Brothers Claus Santa School
Available for:
Private parties / corporate parties

Corporate events

Home Visits, Live and Virtual

Hospital visits

Personal visits

Letters from Santa

Tree Lightings and Parades

Photo sessions with professional photographer
Available Locale(s):
Contact:
---
Mrs. Carrie Claus
Bio / Background Info:
Mrs. Claus can deliver a candy or balloon bouquet. Or Candy Balloon Bouquets

Mrs Claus is available for solo appearance if Santa is at the North Pole

We have a team of entertainers available.

Mrs. Claus has Elves, Face painters, Magicians, Snowman and other characters available.

Were Insured and background checked
Photos, Parades, Tree Lighting's

Corporate, School, Church Party Events

Home, Hospital, Nursing Home and Corporate event Visits

Private Parties, Schools

Advertising and Promotions

Assisting with crafts, Reading and Story Telling

Balloon Artist, Cookie Decorating, Magic Show
DFW and surrounding areas
Contact:
Contact: 214 577-6002
Email: carrielray10@yahoo.com or shimmygiggles@shimmygiggles.com
Website: dfwshimmygiggles.com
---
Santa Christopher Saunders
Bio / Background Info
Jovial professional Santa since 2017

Have sleigh, will travel! Will go almost anywhere to bring the magic of Santa

Graduate of CW Howard Santa Claus School and AAT in Secondary Education 

Member of Lone Star Santas, International Brotherhood of Real Bearded Santas and Sons of the American Legion

Traditional Red Santa and Steampunk Santa

Christmas, Yule, Kwanzaa, and Non-religious

Interraical Mr & Mrs Claus

St. Louis Loop Strolling Santa since 2017 and Southern Texas Boost Mobile Sitting Santa 2019

Available for almost anything! Parties, In home visits, Virtual, Letter writing, Parades, Breakfast, Lunch, and Dinner with Santa, Tea with Santa/Mrs. Claus, TV, Radio, Print, Phone call from Santa, Storytime with Santa and Mrs. Claus, Weddings and other Year-round events. If you feel Santa will make your event magical call me!
Available Locale(s):
Contact:
Workshop: 314-774-4607
Sleigh: 314-719-9376
Email: saundersclaus@gmail.com
---
Santa Dale Schultz



Bio / Background Info:
Professional, real bearded Santa

30+ years of acting and character portrayal add to your holiday joy

Singer and story teller

Background check and insurance maintained annually
Year-rouns for film, television, advertising and print work

Year-round for private, Church, corporate, and community events with all ages

Coaching programs 

Church Programs and Events (Ordained Elder, The United Methodist Church)

Wardrobe for traditional Santa, Nordic Santa, Western Santa, Professional Business Santa, and Casual Santa
Dallas-Fort Worth area
Other locations negotiable
Contact:
Sleigh: 512-963-3456
Email: d.schultz@sbcglobal.net; or, daleschultz@me.com
Website: www.daleschultz.info
---
Santa Mike Stephenson
Bio / Background Info:
Current background check and insured, and Covid-19 vaccinated

Casual and formal attire

Real bearded Santa

Graduate of Christmas Performers Workshop(CPW) and North Pole Santa 

Claus Guide Training School

Santa Mike is a traditional real bearded jolly old guy who loves

children of all ages and brings peace and comfort to the most timid of

He loves to capture the wonder and excitement of his visitors with a jolly Ho Ho Ho, storytelling, singing and maybe a magic trick or two.
Available for:
HOA Parties, City/Community Events

Country Clubs

Breakfast with Santa

Photo Sessions and Mini Sessions
Available Locale(s):
Contact: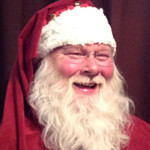 ---
Santa Clint McDowell
Bio / Background Info:
With his jolly laugh and real fluffy white beard, Santa Clint spreads Christmas magic wherever he goes.

Married in 1982, Santa Clint and his wife reside in Colleyville, Texas.

He is a dedicated father and business consultant who loves cookies and milk! Santa Clint has served as the president of his homeowners association and as the volunteer director of a 501(c)3 prayer and outreach ministry.

He enjoys riding his motorcycle and reading for business and pleasure.

He loves bringing joy and cheer to your Christmas party, passing out Christmas toys to good girls and boys, singing Christmas carols, reading Christmas stories and posing for Christmas pictures.

Santa Clint has spread Christmas magic at elementary schools, retirement communities, church functions, private parties, country clubs and corporate events. He also makes cameo appearances in commercials and music videos.

Santa Clint is happy to spread Christmas magic year round!
Available Locale(s):
Greater Dallas / Ft Worth Metroplex
Contact:
---